Home
›
Cricket
Virat Kohli made fastest century in 52 balls for India in Jaipur One Day International
Wednesday, October 16 2013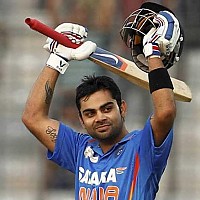 Virat Kohli breaks Virender Sehwag's fastest ODI century record in 52 balls against Australia in Jaipur
Virat Kohli's fastest century (100 runs in 52 balls) seals 2nd one day internations match in Jaipur on Wednesday, 16th October 2013. Virat Kohli's century comes in flying colors chasing a mamoth total of 359 set by Australia.
Virat Kohli never looked back in his inning keep scoring sixes and fours in his blistering knock to blunt Australia's attack against India.
Virat Kohli sets new record of fastest century in one day cricket for any Indian cricketer batsman. Virender Sehwag was the record holder of fastest hundred before Virat Kohli's century followed by Mohammad Azharuddin.