Home
›
24
24 (India) Vikrant Miharia behind Aditya Singhania assassination Daily Soap
Friday, December 13 2013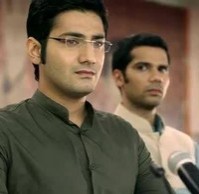 Vikrant Miharia (Rahul Singh) behind Aditya Singhania's assissination plot in 24 Colors
Aditya Singhania's (Neil Bhupalam) brother-in-law Vikrant Miharia (Rahul Singh) set the plot for his assassination in Colors fight against terrorism series 24. Anti Terrorist Unit chief agent Jai Singh Rathor (Anil Kapoor) came to know about Vikrant Miharia behind the assassination plan set by Sri Lankan terrorist Ravindran.
Vikrant Miharia is Divya Singhania's husband. Vikrant and Divya's relationship is on the verge of divorce. Vikrant Miharia set the plot for Aditya Singhania's assassination to promote Aditya's cousin Prithvi (Raghav Chanana) for the top job in the country.
Aditya and Prithvi have developed a misunderstanding following the incident happend within 24 hours of their life. Vikrant Miharia's true face changes the course of actions taken by ATU to counter the assassination plot in final hours of the operation against terrorism in pulse rasing 24 hour battle in television series.
Jai Singh Rathor sticks to his courage and family vaues during 24 hours keeping his job on top priority. Jai Singh Rathor's wife Trisha (Tisca Chopra) suffers stroke after the fight with Sri Lankan terrorists. Jai Singh Rathor's son Veer Singh Rathor (Adish Khanna) like his father got in the trap of Ravindran's men.
All these operations start taking shape with Vikrant's decision to take Ravindran's services to eliminate Aditya Singhania coming in the way of his political ambitions.