Home
›
Phata Poster Nikla Hero
Phata Poster Nikla Hero Hit or Flop FDFS review PPNH review Review
Thursday, September 19 2013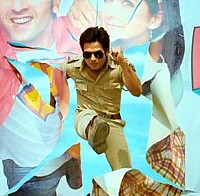 Phata Poster Nikla Hero Hit or Flop First Day First Show review Shahid Kapoor with Ileana D'Cruz in bollywood action comedy
Phata Poster Nikla Hero (PPNH) hits box office on 20th September 2013 with huge fan followings from Shahid Kapoor. Shahid Kapoor and Ileana D'Cruz Phata Poster Nikla Hero is action, comedy movie progresses with Shahid Kapoor's character Vishwas Rao's funny mistakes.
Vishwas Rao is a struggling actor and he likes Salman Khan as his role model. Salman Khan playes self character in the movie inspiring aspiring actor Vishwas Rao. Vishwas Rao tries his best to win Kajal's (Ileana D'Cruz) heart and accidently she mistakes him a cop in police uniform. Vishwas Rao continues to be a fake cop for Kajal whenever she comes to him to report her complaints.
Vishwas Rao gets into trouble when he gets messed with real goons and police officers. He helps police in finding don (played by Saurabh Shukla) and getting him arrested in his attempt to impress his girl friend Kajal.
Phata Poster Nikla Hero is filled with humor and fullon comedy, acting showcased by Shahid Kapoor in his fake cop role. Phata Poster Nikla Hero songs already have made huge success on bollywood chart buster numbers. PPNH grips audience to their seats in cinema theatre with Shahid Kapoor and Ileana D'Cruz error filled action, comedy and romance.
Critics Rating: 2.5/5
Business Rating: 4/5
Audience Rating: 3.5/5