Home
›
Indian Economy
Nifty stocks got red in Global Recession, rupee falls 66.49per $ News
Sunday, August 23 2015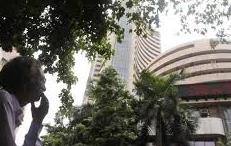 The BSE Sensex and Nifty falls around 3.5 percent, rupee too came under sharp fall of 66.49 per dollar.
Sunsex fall at 1000 points, 50 share slipped to 8000 level for the first time, all Nifty stocks goes red whereas BSE 500 index is one stock higher.
Shanghai lost more than 10 percent, China selloff leads to high risk across the globe.
Anxious global financial markets concerns for China and its economy, when Yuan devalued.
Governor of Reserve bank of India, Raghuram Rajan, said the devaluation of currency was not a concern, until it was long term competitive devaluation.
The Indian Rupee emerging as counterparts for the market and lost 4 percent in two weeks.
Domestic markets facing liquidity, as per analyst foreign sells attacking because of rupee fall.