Home
›
Internet
Microsoft Windows 10 removes Pirated Games, threat for hackers Operating System
Monday, August 17 2015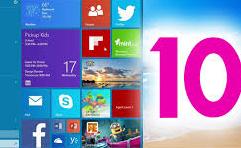 Windows 10 intelligent mechanism blocks removes Pirated Game and Illegal Hacked Devices from system
Windows 10 is highly upgraded version of windows with qualified features, but it will disable all pirated games and illegal hacked devices, that's really a serious problem which remained un notified, now PC authority has identified the issue and working to sort the problem.
Windows 10 notifies a big issue and threat for hackers and pirates
If anyone uses windows 10, a window phone or any other related to it, can disable any of the pirated games.
Markets of China and India runs the business of pirated copies of software and games on a large scale because of day by day growing population, high charges, and many other such reasons, instead pirated copies costs very less and sometimes free also.
Microsoft's EULA (End User License Agreement), Windows 10 mobile would be used to sort this problem.