Home
›
Life Science
Deadly Tornado Season delay in U.S. but start curtly News
Friday, March 27 2015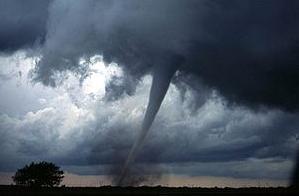 Tornado has been touched Tulsa, Oklahoma, One person killed
U.S. is afraid of deadly Tornado, Thunderstorms and tornadoes ripped through Oklahoma and Arkansas on 25th March, a damaging tornado touched down outside Tulsa, Oklahoma, last night. A person of U.S. has been totally frightened due to bad weather.
One person was killed and several were injured when the tornado destroyed a mobile home park. This type of killer tornado has been come in every seasons but this time it's size so dangerous.
Oklahoma City destroy due to storm
This is not first time for U.S. but also a small twister was also reported in Moore, the Oklahoma City suburb that has been repeatedly ravaged by deadly twisters this decade. The first three weeks of March were tornado-free throughout the United States.
According to the NWSSPC (National Weather Service's Storm Prediction Center) in Norman, Oklahoma, a typical March sees about 120 twisters, the center reports. Only March 1969 compares, without a single tornado until the 24th.
Over the precedent three years, there have been deadly tornado outbreaks in Oklahoma and Arkansas in April and May, despite the dearth of twisters in earlier months