Home
›
India
Narendra Modi's Mongolian Avatar playing Morin Khurr in Mongolia Social Media
Sunday, May 17 2015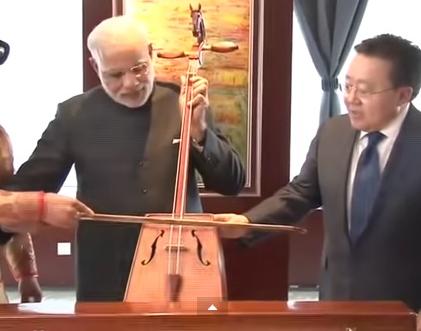 Narendra Modi plays morin khurr in Mongolia, Indian Prime minister maintaince playing musical instrument in foreign trips after beating drums in japan
Narendra Modi attempts "Morin Khurr" forming Mongolia new relationship begins
Narendra Modi keeping his enthusiasm on foreign trips to present new young bold dynamic India playing "MORIN KHURR" as representing his country and as he puts his legendry words front of the peoples, he by playing and accepting the dress code too of Mongolia played Morin Khurr on his Mongolian trip.
Narendra Modi most dynamic Prime Minister india can have ever
Narendra Modi on his magnolia trip in a sky blue dress and a white Mongolian cap played a cultural instrument of Mongolia MORIN KHURR to show his inclination in music and culture too.
AS MORIN KHURR is a Mongolian ancient cultural instrument that is mainly from eastern Mongolia. The meaning of MORIN KHURR as Mongolian culture says is "fiddle of horse's head" mainly made up of wooden box and wires as violin.